2017 Season Poster Revealed
2017 Season Poster Revealed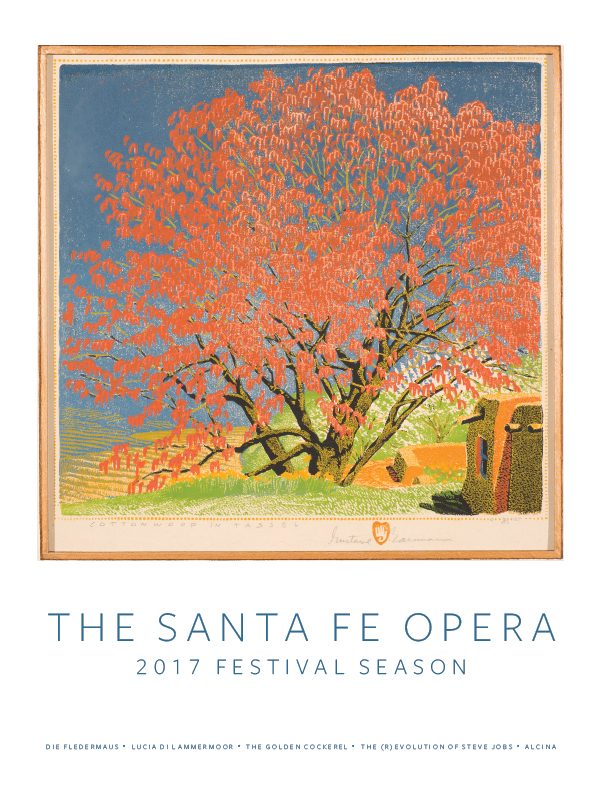 Santa Fe, NM – Cottonwood in Tassel, the work of renowned painter and printmaker Gustave Baumann (1881-1971), is featured on Santa Fe Opera's 2017 festival season poster. The color woodblock print from 1943, courtesy of The Owings Gallery in Santa Fe and the Ann Baumann Trust, is one of Mr. Baumann's iconic New Mexico scenes. Originally from Germany, he moved to New Mexico in 1919 and became known for his stunning depictions of the region.
Mr. Baumann and his family have long been friends of the Opera. His wife, Jane Baumann, served on the Santa Fe Opera Board of Directors from 1958-1984, and The Gustave and Jane Baumann Apprentice Technician Award was established in memory of the couple by their daughter, Ann. The award is given annually to a Santa Fe Opera apprentice technician to help with their career pursuits.
---
The mission of The Santa Fe Opera is to advance the operatic art form by presenting ensemble performances of the highest quality in a unique setting with a varied repertory of new, rarely performed, and standard works; to ensure the excellence of opera's future through apprentice programs for singers, technicians, and arts administrators; and to foster and enrich an understanding and appreciation of opera among a diverse public.