Richard Strauss' Capriccio Opens July 23
The composer's last opera returns to Santa Fe in a new production
---
July 23, 27, at 8:30PM; August 5, 11, 19 at 8:00 PM
Composed by Richard Strauss.
Sung in German with Opera Titles in English and Spanish.
A new Santa Fe Opera production. Last performed in 1993.
First performed at Munich's Staatsoper in 1942.
Produced in collaboration with Garsington Opera at Wormsley.
Tickets: Call the Santa Fe Opera Box Office at 505.986.5900 Monday–Saturday 9 AM–5 PM, or purchase online at santafeopera.org.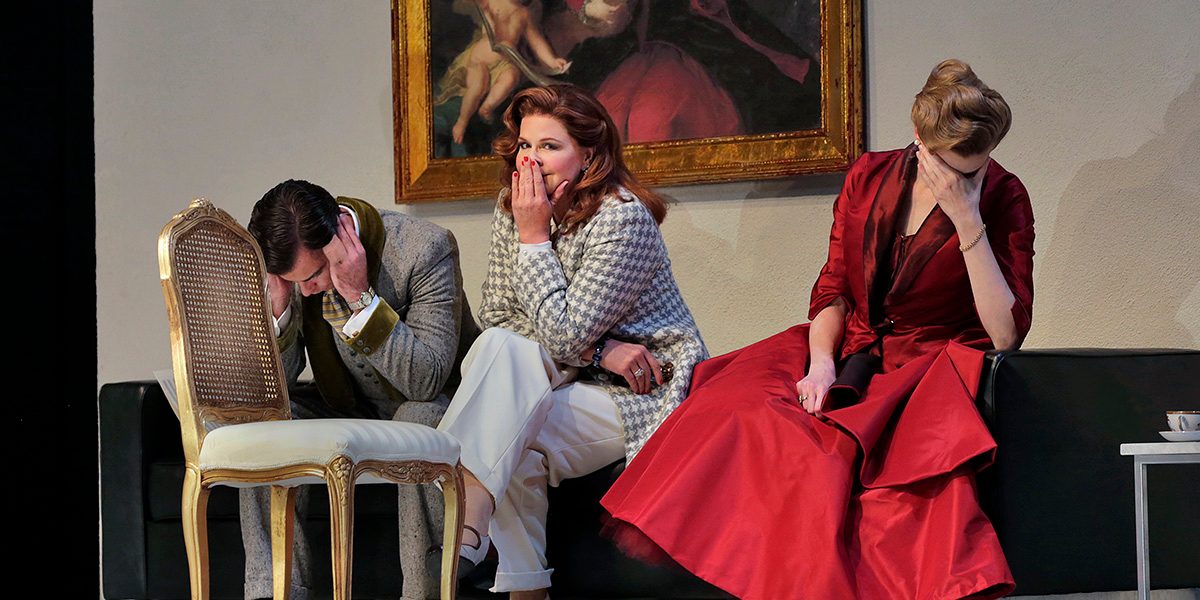 Santa Fe, NM – An elegant and witty opera about opera with an incredibly lush score, Capriccio was the final composition by Richard Strauss and remains one of the most captivatingly sophisticated works in the operatic repertory. This dueling love story which explores the aesthetic debate about whether words or music are more important received its American premiere at Santa Fe Opera in 1958. In 2018 this production of Capriccio will be presented at Garsington Opera at Wormsley.
Critically acclaimed soprano Amanda Majeski (Griselda, 2011) is the elegant Countess, torn between two suitors: the artist Flamand, sung by recent graduate of the Metropolitan Opera's Lindemann Program tenor Ben Bliss (debut), and the poet Olivier, sung by baritone Joshua Hopkins (La Finta Giardiniera, 2015). Grammy Award–winning and globally celebrated mezzo-soprano Susan Graham (The Grand Duchess of Gerolstein, 2013) is the actress Clairon, former apprentice baritone Craig Verm (debut) is the brother of the Countess, bass-baritone David Govertsen (The Impresario and Le Rossignol, 2014) is the theater director La Roche, and tenor Allan Glassman (debut) is Monsieur Taupe. Former apprentice soprano Shelley Jackson, who debuted in 2014 as Norina in Don Pasquale, is an Italian Singer. Recently appointed as Principal Conductor of Opéra de Rouen Haute-Normandie, Leo Hussain (La Traviata, 2013) conducts the Santa Fe Opera Orchestra. Stage director Tim Albery (Arabella, 2012; La Finta Giardiniera, 2015) creates a new Santa Fe Opera production with frequent collaborator scenic and costume designer Tobias Hoheisel (Arabella, 2012). Lighting designer Malcolm Rippeth makes his company debut, and choreography is by Jodi Melnick (Beatrice and Benedict, 2004).
Conductor: Leo Hussain
Director: Tim Albery
Scenic and Costume Designer: Tobias Hoheisel
Lighting Designer: Malcolm Rippeth
Choreographer: Jodi Melnick
Countess: Amanda Majeski
Clairon: Susan Graham
Count: Craig Verm*+
Flamand: Ben Bliss*
Olivier: Joshua Hopkins
La Roche: David Govertsen+
Monsieur: Taupe Allan Glassman*
An Italian Singer: Shelley Jackson+
Dancer: Beth Miller*
*debut, +former Santa Fe Opera Apprentice