Singing For Their Future – The Apprentice Singers
Singing For Their Future – The Apprentice Singers
---
An apprentice is someone who learns a craft by observation, example, and plenty of hard work. It isn't easy to go from imitative beginner to capable journeyman to creative master, but it's the best way to blend the theoretical with the practical and yield a rounded artist.
For nearly six decades, The Santa Fe Opera has maintained one of the arts world's historic apprentice opportunities for young singers. Company founder John Crosby inaugurated the program in 1957 with just eight participants. It was an immediate success — and, over the years, has directly led to scores of similar opportunities being implemented at opera companies around the country.
Santa Fe's program now boasts an annual cadre of around 42 singers chosen from an average of 1,000 applicants per year. Overall, some 2,000 singers have passed through these portals — an amazing record. (A companion technical apprentice program, which began in 1965, annually fields around 75 persons out of an average of 900 applications.)
Crosby was determined that his apprentices would receive good training and high-level experience in return for their dedication and perspiration. He wrote in a 1967 letter, "My own personal experience…rather soured me with regard to what might be called 'alleged apprentice programs,' [where] a great amount of work was extracted from young people with a minimum of training and help offered, and an extremely poor caliber of instruction provided." As a result, "…I have always wanted to feel the Santa Fe Opera Apprentice Program was in every way meaningful, helpful, and honest about the service it expects from the Apprentices and the instruction with which it provides them."
Certainly the vocal apprentices work hard. Their main task is to form the chorus for the season's repertoire. That means fully mastering different interpretive styles, languages, and vocal demands under the guidance of chorus master Susanne Sheston — while learning, if they don't already know, how to maintain vocal health and efficiency under rigorous conditions.
Some are assigned as covers for major roles. Others are granted smaller but vital parts in the various operas. Community outreach appearances are also not uncommon. Being a singer apprentice means being constantly on the go during an entire summer.
But the benefits are many and generous. The apprentices gain valuable stage and musical experience. They observe and interact with professional members of the company. They enjoy master classes with vocal and repertoire experts. They receive intensive language and diction coaching, and advice on interpretation. Finally, they are able to sing for visiting managers and agents, as well as being featured in the two annual Apprentice Scenes concerts held toward the end of each season.
Unplanned Debuts: Success On The LiNE
However, sometimes young artists gain experience that is…well…less expected. Apprentices have stepped in often during regular seasons when illness or indisposition has sidelined an announced artist, says David Holloway, head of the singer program.
In 1961, he points out, Sharon Tebbenkamp took on the important role of Augusta Tabor in Douglas Moore's The Ballad of Baby Doe when the scheduled singer fell ill. She then repeated the role during the company's European tour. In 1964, David Sundquist "took over the role of Leukippos [in Richard Strauss's Daphne] because Glade Peterson had injured his back in a horse-riding incident," Holloway says.
In more recent years, Jennifer Holloway stepped in to sing Prince Charming in Massenet's Cendrillon. Danielle Pastin took on the lead role of Mimi in Puccini's La Bohème. Jonathan Michie essayed The Vicar in Britten's Albert Herring while Alyssa Anderson took the stage as Florence Pike in the same opera. Last season, Shelley Jackson sang Norina in Donizetti's Don Pasquale, while Joseph Dennis took on the title role in the American premiere of Huang Ruo's Dr. Sun Yat-Sen.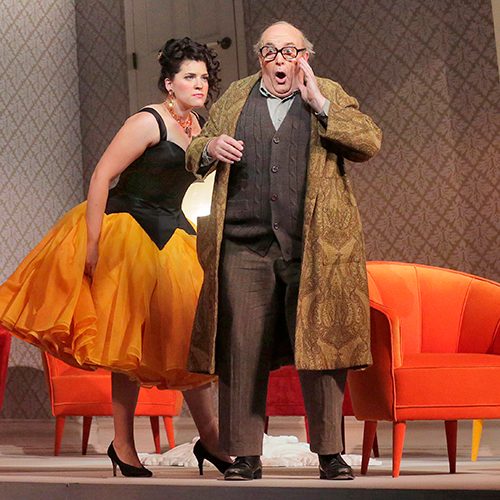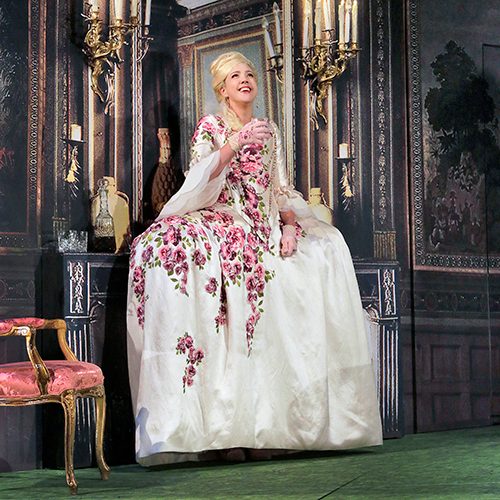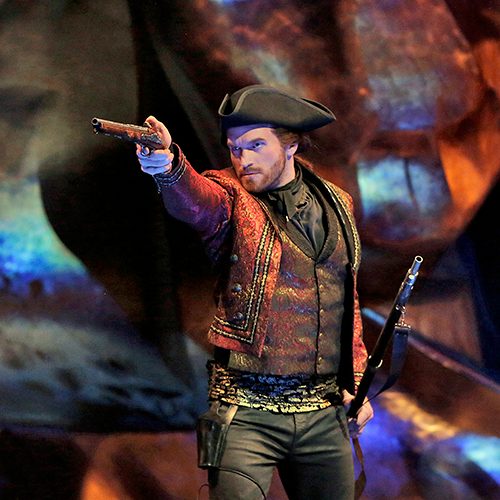 Some artists make important, last-minute appearances during their apprenticeships; many also return in later years as principal artists at The Santa Fe Opera. There are five former apprentices taking mainstage roles in the current season. Soprano Georgia Jarman (a 1997 apprentice) sings Gilda in Verdi's Rigoletto. Soprano Susanna Phillips (2004) and tenor William Burden (1989, 1990) are Arminda and The Podestà in Mozart's La Finta Giardiniera. Mezzo-soprano Emily Fons (2008, 2009) and tenor Jay Hunter Morris (1990, 1991) create the roles of Ruby and Teague in the world premiere of Cold Mountain.
"The most important thing I took away from my apprentice experiences was the breaking down of limitations I had placed on myself," says Burden. "School, though an important and nurturing time, can often promote a sense of the fragility of the voice. There is an abundance of time for 'navel gazing' and singers can micromanage themselves into craziness!
"No time for that in the Apprentice Program. Apprentices often rehearse in the day then perform at night. There are coachings, lessons, scene stagings, and master classes. The sooner a young singer learns that good, healthy singing promotes good, healthy singing, the better! Summers in Santa Fe are the perfect crucible for learning that lesson."
Phillips confirms Burden's dicta. "While I was an apprentice I sang in four choruses, covered Ana María Martínez who sang Donna Elvira in Don Giovanni, sang a scene from The Rake's Progress for the Apprentice Scenes Showcase, and auditioned for numerous international opera houses — in what we affectionately called our 'death by aria' audition.
"Covering Ana Maria was a real gift in the sense that I got to watch a singer who built an international career in the rehearsal process," Phillips says. "It's not always a glamorous process, but the nitty-gritty is where you actually learn the lessons… it's an experience that I draw on to this day."
Echoing Crosby's statement that apprentices need to get as well as give, Phillips notes that "Santa Fe is unique in its commitment to a familial atmosphere while demanding an excellent caliber of performance."
Certainly it has successfully stocked the world's stages. Asked how frequently he encounters fellow former apprentices in his work, Burden economically replies, "Often!" Phillips adds, "I'd say that it's very rare (1 time out of 10) that I do a production with someone who was not an apprentice or a frequent performer in Santa Fe."
Asked what advice they have for their younger colleagues, both artists stress the need for commitment and adaptability.
"Be open to the whole experience," Phillips urges. "The environment encourages growth, support, and excellence. It's unlike any other apprenticeship that I've experienced, and one that will stay with me." Burden responds, "My advice is, come ready to learn and grow. Spend most of your time listening — to artists, coaches, directors, conductors. There is always something to take away from every experience and encounter."
So when you're next at a Santa Fe Opera performance, keep your eye on the choristers as well as the leading artists. You never know when you might be seeing future greatness in the making, in the crucible of apprentice commitment.