The First-Timer's Guide to Great Opera Tailgating
The First-Timer's Guide to Great Opera Tailgating
---
It's been a while—I won't say how long—since my Girl Scout days, but the lessons learned from campcraft, cooking and music appreciation badges are still with me. No wonder I'm dedicated to combining a Santa Fe Opera performance with my love for dining outdoors. Tailgating at the Opera is a summer tradition that never grows old! Santa Fe Opera fans are as die-hard as those of any sports team, and as befits major-league opera, major-league tailgate parties are an unforgettable part of the whole experience. My scouting days also taught me the value of a good guide, so I offer some ideas for creating a perfect parking lot party.
K.I.S.S. Car-Dining
I'll start with the obvious: Go early. The beauty of such foresight? Premium parking spots in the upper lot and terrific people-watching, which is a tailgate education in itself. There are a few picnic tables on the Opera grounds that offer unshaded seating and panoramic views, but you have to be mighty early to grab a seat and plunk down your grub. You'll see plenty of folks chomping a sandwich right in the car and that's a comfort-level choice. After all, the main attraction is inside that magnificent theater! Regardless of your dinner set-up, once you finish eating, you'll have time for the free prelude talks, either one or two hours before each performance
D.I.Y. Table Tailgating
Now let's take it up a notch, shall we? You'll want at least a pair of chairs (or more, depending on the size of your party) and a table or two. If you have local friends, TV tables and camp chair loaners work, but the prices at Santa Fe Party Rentals are surprisingly reasonable, so why not opt for comfort in dining under the colorful Santa Fe skies? The rental store's setting is unprepossessing but it's well-located and well-stocked: Fiesta ware, champagne flutes, linens, chairs, tables, and tents and canopies too. Coming from Albuquerque? Garcia's Tents and Events has you similarly covered.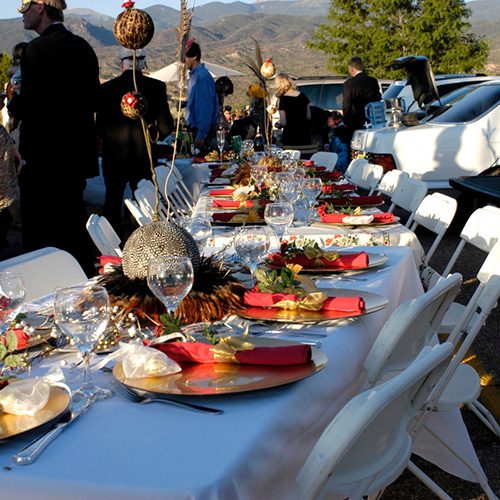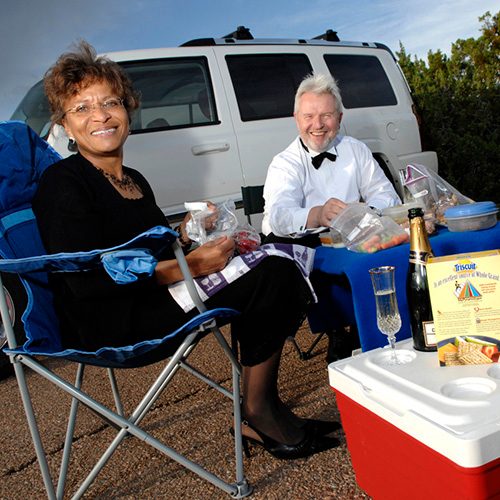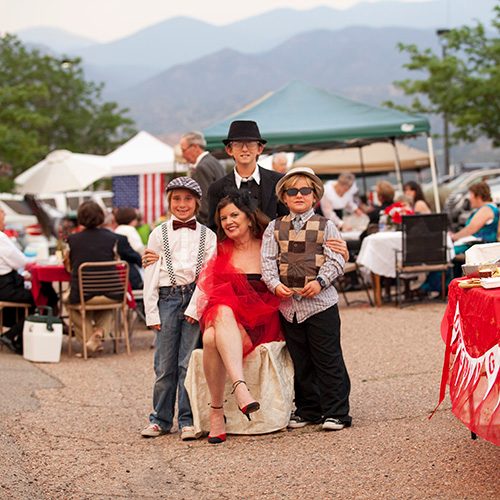 Puttin' on the Ritz Wallet-Wisely
Table décor always adds an extra touch, and you can't beat the ubiquity of dollar stores in Santa Fe for vases, paper goods, and festive disposable tablecloths (consider plastic rain ponchos if skies look grey). Dollar Tree on Cordova Road shares a central location near Trader Joe's (grab those fresh flowers for the table)—and that's as good a place as any to start talking food!
Feed Your Dining Fantasies
Oh yes, the food—opera is manna for the soul, but sitting through three acts or so definitely requires serious sustenance. Take the pressure off decision-making with a simple and highly affordable solution: Pre-order a tasty tailgate picnic supper from the Opera (48 hours advance notice required); prepared by Bon Appetit, these cold suppers include vegan and vegetarian selections. Feeling more adventurous? If the bill of fare at the afore-mentioned Trader Joe's is too tame, scoot down the road to Santa Fe's Whole Foods Market (two locations, but more options in the Cerrillos Road location than the St. Francis Drive outpost); unlike Trader's, the wine and the beer will already be cold. Loyal locals are devoted to La Montañita Co-op and it offers the extra bonus of being a straight shot up the road to the Opera.
Fine wine and dear friends––that's what makes the party (and yes, bring water to accommodate for the humidity-free 7,000-ft altitude).
Need to rustle up a unique Rosé or signature Sauvignon Blanc to pair with your salmon? Susan's Fine Wine and Spirits is perched on the corner of St. Francis Drive and Cerrillos Road in the Trader Joe's/Whole Foods neighborhood. Your discriminating opera pals will appreciate your thoughtful sommelier activities.
Add a Touch of Catered Class
Santa Fe totally deserves its foodie kudos and that has naturally resulted in inventive catering. Walter Burke Catering has been making Santa Fe parties legendary for years, and the take-out menu is utterly mouth-watering. Peas'n'Pod can craft an upscale dinner or a provide a down-home BBQ for the hungry crowd.
Tailgating To Go
Now that you've ruled out dining out, don't rule out take-out from Santa Fe's plethora of fantastic restaurants. If you're car-less and taking the SFO shuttle from your hotel, Dashing Delivery will deliver restaurant meals to your hotel from a variety of local favorites. If you have your own buggy, the possibilities expand significantly; but be aware that in summer, Santa Fe restaurant kitchens are at their busiest, so calling ahead for the particulars ensures availability and success. And don't neglect the totally apparent—if your Santa Fe hotel offers take-out dining, just order and pick it up on your way to the Opera.
I've done my scouting duty with a soup-to-nuts guide—now it's up to you! Mix al fresco dining under azure skies with fabulous performances as the sunset yields to stars, and scout's honor, you're guaranteed to discover the ultimate in enjoying a night at the opera Santa Fe style.
(All photographs courtesy of The Santa Fe Opera.)