Giacomo Puccini's The Girl of the Golden West Opens July 1
Santa Fe Opera's 60th Anniversary Season opens with an Olivier Award-winning co-production with English National Opera
---
July 1, 6, 9, 15, at 8:30 PM; August 2, 8, 13, 17, 23, 27 at 8:00 PM
Composed by Giacomo Puccini.
Sung in Italian with Opera Titles in English and Spanish.
A co-production with English National Opera. Last performed in 1995.
First performed at New York's Metropolitan Opera in 1910.
Tickets: Call the Santa Fe Opera Box Office at 505.986.5900 Monday–Saturday 9 AM–5 PM, or purchase online at santafeopera.org.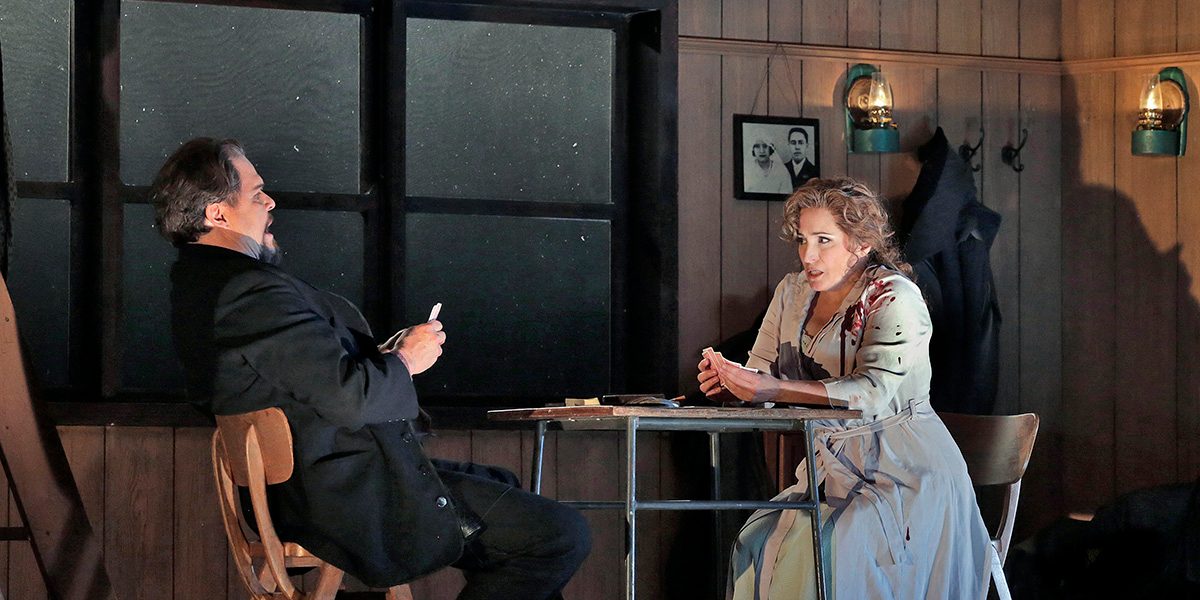 Santa Fe, NM – A "spaghetti Western" tale of love, money, deceit, and forgiveness, The Girl of the Golden West is an authentic take on America's iconic Golden West, set to music by the composer of Madame Butterfly and Turandot. Full of color and action—firing pistols, poker, and whiskey—Puccini's romantic portrait of the gold-mining frontier is inhabited by pitiless bandits, compassionate but rugged prospectors, and one extraordinary saloon owner named Minnie.
British theatre and opera stage director Richard Jones makes his company debut with this co-production, praised as "stylistically simple and morally sincere" by The Telegraph at its English National Opera premiere in 2014. Jones was recently awarded the 2015 Olivier Award for "Outstanding Achievement in Opera" for this critically acclaimed production, and is joined by original scenic and costume designers Miriam Buether and Nicky Gillibrand. Returning to Santa Fe Opera, soprano Patricia Racette (The Letter, 2009) makes her role debut as the high-spirited Minnie, and tenor Gwyn Hughes Jones (La Bohème, 2007) is the bandit Dick Johnson. Completing their love triangle, bass-baritone Mark Delavan (Arabella, 2012) is the mining camp's shady sheriff Jack Rance, and bass Raymond Aceto (King Roger and Tosca, 2012) is the Wells Fargo agent Ashby. Making their company debuts, tenor Allan Glassman is Nick, bartender at the "Polka" saloon, and baritone Craig Verm is the miner Sonora. Music Director at The Dallas Opera, Emmanuel Villaume (The Grand Duchess of Gerolstein, 2013), conducts the Santa Fe Opera Orchestra. Lighting designer Mimi Jordan Sherin (The Abduction from the Seraglio and Blond Eckbert, 1994), fight director Rick Sordelet, and chorus master Susanne Sheston complete the creative team. Original choreography by Lucy Burge is remounted by Anjali Mehra (debut).
Conductor: Emmanuel Villaume
Director: Richard Jones*
Scenic Designer: Miriam Buether*
Costume Designer: Nicky Gillibrand*
Lighting Designer: Mimi Jordan Sherin
Original Choreographer: Lucy Burge*
Associate Choreographer: Anjali Mehra*
Fight Director: Rick Sordelet
Chorus Master: Susanne Sheston
Minnie: Patricia Racette
Dick Johnson: Gwyn Hughes Jones
Jack Rance: Mark Delavan
Ashby: Raymond Aceto
Nick: Allan Glassman*
Sonora: Craig Verm*+
*debut, +former Santa Fe Opera Apprentice