Works & Process at the Guggenheim Presents Santa Fe Opera: The (R)evolution of Steve Jobs
The world premiere opera by Mason Bates and Mark Campbell receives an exclusive preview April 9 and 10, 2017 at the Guggenheim
---
What: Works & Process at the Guggenheim presents: Santa Fe Opera: The (R)evolution of Steve Jobs by Mason Bates and Mark Campbell
Where:  Peter B. Lewis Theater at the Solomon Guggenheim Museum
1071 Fifth Avenue at 88th Street
Subway: 4, 5, 6 train to 86th Street
Bus: M1, M2, M3, or M4 bus on Madison or Fifth Avenue
When: Sunday and Monday, April 9 and 10, 7:30pm (EST)
Web: A video recording of this Works & Process event will be archived on their YouTube channel at youtube.com/worksandprocess roughly two weeks after the live event.
Tickets: This event is sold out. Some press/media passes are available by contacting the Santa Fe Opera Director of Media and Public Relations, Daniel Zillmann, at dzillmann@santafeopera.org.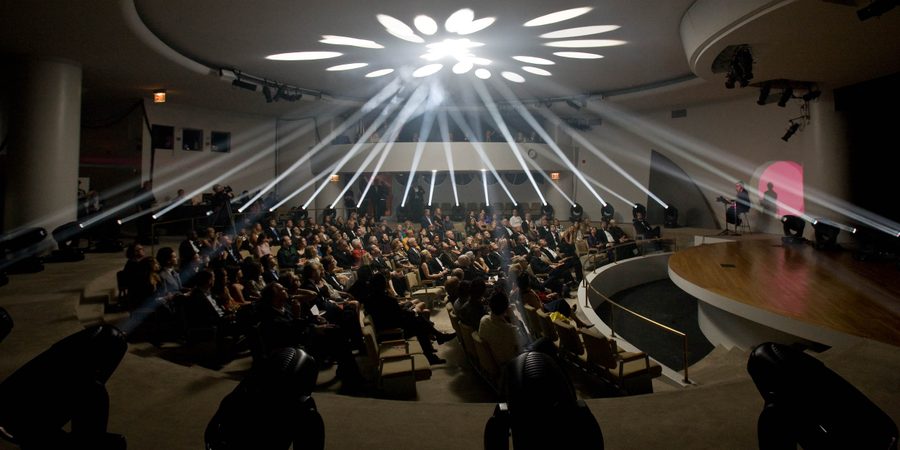 New York – On Sunday and Monday, April 9 and 10, 2017 at 7:30pm, Works & Process at the Guggenheim presents performance highlights and moderated discussion with Grammy-nominated American composer Mason Bates on his first full length opera, The (R)evolution of Steve Jobs, prior to its world premiere with Santa Fe Opera. Librettist Mark Campbell, and director Kevin Newbury will also share insights on the creative process and musical excerpts will be performed. The (R)evolution of Steve Jobs will have its world premiere at Santa Fe Opera in the summer of 2017, opening July 22.
Works & Process at the Guggenheim
For over 31 years and in over 400 productions, New Yorkers have been able to see, hear, and meet the most acclaimed artists in the world, in an intimate setting unlike any other. Works & Process, the performing arts series at the Guggenheim, has championed new works and offered audiences unprecedented access to generations of leading creators and performers. Each performance takes place in the Guggenheim's intimate Frank Lloyd Wright-designed 285-seat Peter B. Lewis Theater. Described by the New York Times as "an exceptional opportunity to understand something of the creative process," Works & Process is produced by founder Mary Sharp Cronson. worksandprocess.org.
---
The mission of Santa Fe Opera is to advance the operatic art form by presenting ensemble performances of the highest quality in a unique setting with a varied repertory of new, rarely performed, and standard works; to ensure the excellence of opera's future through apprentice programs for singers, technicians, and arts administrators; and to foster and enrich an understanding and appreciation of opera among a diverse public.