Melissa Etheridge & Keb' Mo'
Presented by Exceptional Artists
Melissa Etheridge & Keb' Mo'
September 22, 2022 at 8 PM
Melissa Etheridge
Melissa Etheridge stormed onto the American rock scene in 1988 with the release of her critically acclaimed self-titled debut album, which led to an appearance on the 1989 Grammy Awards show. For several years, her popularity grew around such memorable originals as "Bring Me Some Water," "No Souvenirs" and "Ain't It Heavy," for which she won a Grammy® in 1992. Etheridge hit her commercial and artistic stride with her fourth album, Yes I Am (1993). The collection featured the massive hits, "I'm the Only One" and "Come to My Window," a searing song of longing that brought Etheridge her second Grammy® Award for Best Female Rock Performance. In 1995, Etheridge issued her highest charting album, Your Little Secret, which was distinguished by the hit single, "I Want to Come Over." Her astounding success that year led to Etheridge receiving the Songwriter of the Year honor at the ASCAP Pop Awards in 1996.
Known for her confessional lyrics and raspy, smoky vocals, Etheridge has remained one of America's favorite female singer-songwriters for more than two decades. In February 2007, Melissa Etheridge celebrated a career milestone with a victory in the "Best Song" category at the Academy® Awards for "I Need to Wake Up," written for the Al Gore documentary on global warming, An Inconvenient Truth. As a performer and songwriter, Etheridge has shown herself to be an artist who has never allowed "inconvenient truths" to keep her down. Earlier in her recording career, Etheridge acknowledged her sexual orientation when it was considered less than prudent to do so. In October 2004, Etheridge was diagnosed with breast cancer, a health battle that, with her typical tenacity, she won. Despite losing her hair from chemotherapy, Etheridge appeared on the 2005 Grammy® telecast to sing "Piece of My Heart" in tribute to Janis Joplin. By doing so she gave hope to many women afflicted with the disease.
On October 7, 2016 Melissa Etheridge released Memphis Rock & Soul, her first album since 2014's critically lauded This Is M.E. Recorded at Royal Studios in Memphis, the album received stellar reviews from the likes of Entertainment Weekly, Parade, Rolling Stone, American Songwriter and more. She followed that up with the release of The Medicine Show in April, 2019. For The Medicine Show, Melissa reunited with celebrated producer John Shanks and sounds as rousing as ever, bringing a new level of artistry to her 15th studio recording. The Medicine Show deals with universal themes of renewal, reconciliation, reckoning, compassion and, most profoundly, healing.
In June of 2020, Etheridge launched her own live streaming subscription and single ticket concert platform, Etheridge TV. Etheridge plays five unique shows Tuesday-Saturday at 3:00 p.m. PT and has done over 200 live streams in 2020.
On September 17, 2021, Melissa released a new album called One Way Out. The 9-track album is a collection of songs Etheridge wrote in the late '80s and early '90s that never made the cut….until now! The time is finally right, and fans will finally get a deeper glimpse to who Melissa was then.
Keb' Mo'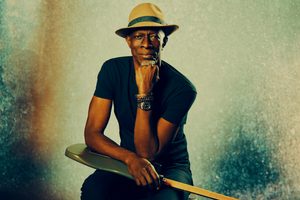 With five GRAMMYs, 14 Blues Foundation Awards, and a groundbreaking career spanning nearly 50 years under his belt, Keb' Mo's got nothing left to prove. Just don't tell him that.
"I may be turning 70," Keb' reflects, "but I'm still breathing and I'm still hungry. I'm still out there going for it every single day."
Born and raised in Compton, Keb' began his remarkable journey at the age of 21, when he landed his first major gig playing with Jefferson Airplane violinist Papa John Creach. For the next 20 years, Keb' would work primarily behind the scenes, establishing himself as a respected guitarist, songwriter, and arranger with a unique gift for linking the past and present in his evocative playing and singing.  In 1994 he would introduce the world to Keb' Mo' with the release of his widely acclaimed self-titled debut. Critics were quick to take note of Keb's modern, genre-bending take on old school sounds, and two years later, he garnered his first GRAMMY Award for Best Contemporary Blues Album with Just Like You. In the decades to come, Keb' would take home four more GRAMMY Awards; top the Billboard Blues Chart seven times; perform everywhere from Carnegie Hall to The White House; collaborate with many including Taj Mahal, Willie Nelson, Bonnie Raitt, The Chicks, and Lyle Lovett; have compositions recorded and sampled by artists as diverse as B.B. King, Zac Brown, and BTS; release signature guitars with both Gibson and Martin; compose music for television series like Mike and Molly, Memphis Beat, B Positive, and Martha Stewart Living; and earn the Americana Music Association's 2021 award for Lifetime Achievement in Performance.
In addition to his extraordinary musical output, Keb' also established himself as a captivating onscreen presence over the years, appearing as himself in Martin Scorcese's The Blues, Aaron Sorkin's The West Wing, and even the iconic children's series Sesame Street. He flexed his acting chops in a wide variety of projects, as well, portraying Robert Johnson in the 1998 documentary Can't You Hear The Wind Howl, Howlin' Wolf on CMT's Sun Records, and the ghostly bluesman Possum in John Sayles' 2007 film Honeydripper. A fixture on late night TV and award show stages, Keb' has also performed on Letterman, Leno, Conan, Colbert, and Austin City Limits in addition to appearing on nationally televised broadcasts from The Kennedy Center, The Ryman Auditorium, and Eric Clapton's Crossroads Festival.
A passionate philanthropist and outspoken activist, Keb' has helped raise hundreds of thousands of dollars in support of social, environmental, and racial justice throughout his career. As a celebrity mentor with The Kennedy Center's Turnaround Arts Program, which began under the guidance of First Lady Michelle Obama and the President's Committee for the Arts and Humanities, Keb' "adopted" The Johnson School for Excellence in Chicago, where he teamed up with teachers, students, and parents to help develop a thriving arts education program, and as a longtime ambassador for the Playing For Change Foundation, he's supported the non-profit from its early days in its quest to provide free music education and basic needs like food, water, medicine, clothing, books, and school supplies to children around the world.
For more information on Keb' Mo', please visit his official website at www.kebmo.com. Follow him on Facebook, Twitter, and Instagram.