The Santa Fe Opera Announces 42 Members of the 2019 Season Apprentice Program for Singers
42 Singers from Across the United States, Canada and South Korea 
View or Print Press Release (PDF)
---
Santa Fe, NM —  The Santa Fe Opera is delighted to announce the members of its 2019 Season Apprentice Program for Singers. This season's program is composed of singers from across the United States, Canada and South Korea. The 42 singers, selected by Gayletha Nichols, Director of the Program, and Robert Tweten, Head of Music Staff, rose to the top from a pool of more than 1,000 applicants through a competitive pre-screening and audition process.
Established upon the Santa Fe Opera's founding in 1957, the company's Apprentice Program for Singers has since provided training, performance opportunities and international exposure to young singers in transition from academic to professional life. The first of its kind in America, now more than 1,500 aspiring singers have participated in the internationally recognized program. Former singing apprentices have gone on to careers as professional performers and include Joyce DiDonato, Michael Fabiano, Brandon Jovanovich and Susanna Phillips; others are now teachers, coaches and administrators at major opera companies and universities.
In addition to mainstage opera performances, this year's participants will appear in fully-staged Apprentice Showcase Scenes on August 11 and 18, 2019 at 8:00 PM. Each singer will also have the opportunity to work with renowned voice faculty and audition for opera executives from major companies including the Canadian Opera Company, Lyric Opera of Chicago, Dallas Opera, Houston Grand Opera, Metropolitan Opera, San Francisco Opera, Seattle Opera and Washington National Opera.
Gayletha Nichols has served as Director of the Apprentice Program for Singers since May 2018. Ms. Nichols auditions hundreds of singers across North America every year and in her travels addresses universities, conservatories and festivals on developing the next generation of opera singers. Formerly the Executive Director of the Metropolitan Opera National Council Auditions and Director of the Houston Grand Opera Studio, she is a frequent adjudicator in national and international competitions and consults for other young artist programs across the country. Kathleen Clawson is the program's Associate Director, and in addition, serves as Director of the Young Voices of The Santa Fe Opera. Ms. Clawson is on the faculty of the University of New Mexico's Department of Theatre and Dance and continues to work as a stage director with opera companies across the United States.
Sopranos
---
Danielle Beckvermit
Kingston, New York
Regina Ceragioli*
Chicago, Illinois
Cheyanne Coss
Eaton Rapids, Michigan
Sylvia D'eramo*
Tyler, Texas
Mary-Hollis Hundley*
Louisville, Kentucky
Grace Kahl
Queens, New York
Hayan Kim
Seoul, South Korea
Jana Mcintyre*
Santa Barbara, California
Sunwoo Park
Seoul, South Korea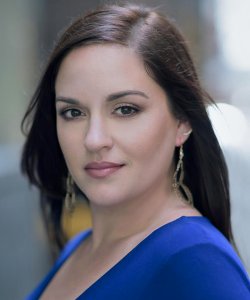 Ann Toomey
Shelby Township, Michigan
Katherine Beck
Bennington, Vermont
Gillian Lynn Cotter*
Buffalo, New York
Katherine DeYoung*
Traverse City, Michigan
Ruby Dribble
Kansas City, Missouri
Kate Farrar
Lexington Park, Maryland
Leia Lensing*
Solon, Iowa
Kaitlyn McMonigle*
Ocala, Florida
Gina Perregrino*
Wilmington, Delaware
Kathleen Reveille*
Highland Mills, New York
Elizabeth Sarian*
Plainview, New York